GYNECOMASTIA (MALE BREAST REDUCTION)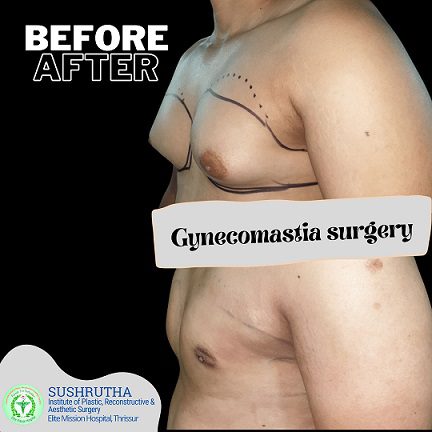 Excessive prominence in the chest can be an embarrassing problem, especially while wearing t-shirts and during sports. A combination of fat and fibrous tissue proliferation results in such problems, which is difficult to treat despite all diet and exercise. Surgical removal of excess tissue is done with combination of liposuction and manual removal. We perform this procedure commonly with excellent patient satisfaction.
It can be a just little conical protrusion called a puffy nipple to a fully developed breast like a female, to severely enlarged gynaecomastia. Mostly it is bilateral but can be unilateral gynecomastia or asymmetrical gynecomastia. the incidence of excess breast tissue in males is 25% among men; more recent studies have reported an overall incidence of 32% to 36. The feeling of having a feminine look might disrupt one's self-esteem. It often puts one in a very embarrassing situation and can harm the quality of life. Cosmetic surgeons at Sushrutha institute of plastic surgery in Thrissur, Kerala does gynecomastia surgery as daycare surgery. He does male breast reduction under local anesthesia, where he combines advanced Laser and Vaser liposuction with gland excision, it is practically bloodless, painless, stitch-less male boobs reduction surgery.It gives scarless, recovery and permanent male breast reduction result.

how gynecomastia surgery is done in sushrutha plastic surgery?
watch this video, to see the surgery.
Gynecomastia surgery before and after